Getting around Lombok is easy by car or motorbike and you can hire these in all the main tourism areas, with an international Driver License. The roads are generally in good condition and traffic is light. Alternatively, hire a car and driver for exploring or take part in the tours and day trips offered by the many tour agencies on the island.
The whole island is surrounded by fantastic beaches, most of which are covered in clean white sand and fringed by coconut palms. Nipah and enjoy deserted beaches with fine snorkeling and swimming. The southwest coast also has fine beaches, especially around Sekotong and Taun.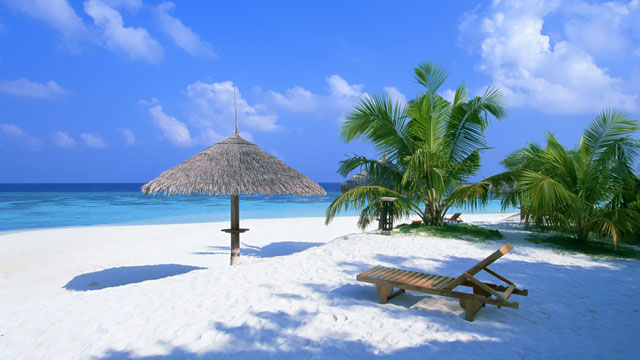 Visit the small island of Gili Nanggu for rustic accommodation and great snorkelling just off shore or stay at Secret Island Resort on Gili Gede to explore the twelve other undeveloped islands in the southwest. The beaches around Kuta are breathtakingly beautiful. Visit Gerupuk for fantastic scenary, Kuta for long stretches of white sand and turquoise waters, or swim in the peaceful lagoon at Mawun.
With so many beaches and small islands, Lombok offers a myriad of diving and snorkeling opportunities. The best-known locations are around the Gili islands (Gili Air, Gili Meno, and Gili Trawangan)
Snorkelling is easy from the shore and all three islands are well served by professional dive operators who offer full PADI certification courses, day and night dives to the many sites around the Gilis, as well as specialised courses and live-aboard adventures to exotic locations. For the more adventurous, there is superb diving around the islands off the southwest coast, as well as near Kuta on the south coast and the small uninhabited islands of the east coast.
Lombok is becoming a world-renown surfing destination amongst surf enthusiasts worldwide. Huge waves and challenging surf lure die-hards to Bangko-Bangko (also known as Desert Point) on the south-western tip of Lombok.
Kuta, on the south coast, is surf-central and has a range of accommodations and services catering specially to surfers.
Here you can hire a board, get board repairs and take surf lessons from the professionals.
The waves at Gerupuk and Kuta offer a variety of challenges from beginners to sheer madness!
Ekas Bay has two surf breaks: Inside Ekas and Outside Ekas, which are suitable for beginners to experts, depending on different peaks and tides.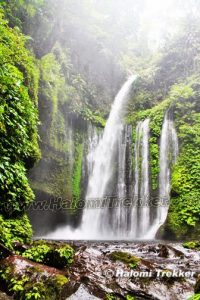 Much of the island is still covered by natural rain forest and jungles, making Lombok ideal for ecotourism and adventure tours.
There are a number of spectacular waterfalls on the island which provide lovely trekking opportunities, wheether travelling independently or as part of a tour. Sendang Gile and Tiu Kelep on the slope of Mount Rinjani in the north is an easily accessible waterfalls in a stunning jungle setting and popular with visitors.
Air Jeruk Manis, near Tetebatu is reached by walking through pretty rice fields and forests.
the awesome Benang Stokel and Benang Kelambu waterfalls, in central Lombok, are located within a short trek of each other and make a perfect day trip for those who appreciate truly magical natural surroundings.
Mt. Rinjani, Lombok's famous volcano, soars 3726m above sea level and is the second highest volcano in Indonesia, attracting thousands of trekkers and climbers annually. The huge crater near the top contains a beautiful lake, Danau Segara Anak (Child of the Sea Lake) and a smaller volcanic cone, Gunung Baru Jari, which was formed a couple of hundred years ago. There are a number of caves, small waterfalls and hot springs located around the volcano.
In 2004 Rinjani won the World Legacy Award and the volcano is recognised internationally as an important eco-tourism destination. Two, three and four day treks on the volcano are offered by tour companies and trek organizers in all the main resort areas of Lombok.
Historic Sites and Temples
There are a number of interesting temples around the west coast, many of which are Hindu or ancient animist sites of worship.
Pura Lingsar is possibly the only place in the world where Hindus and Moslems come together to pray and celebrate. Built around 1714, Pura Lingsar was originally based on the prevailing animist beliefs of the time, and some of the original animist statues remain today. Perang Topat, is an annual festival held at Lingsar and features a ritualized war with rice cakes, which also serve as an offering to the Gods.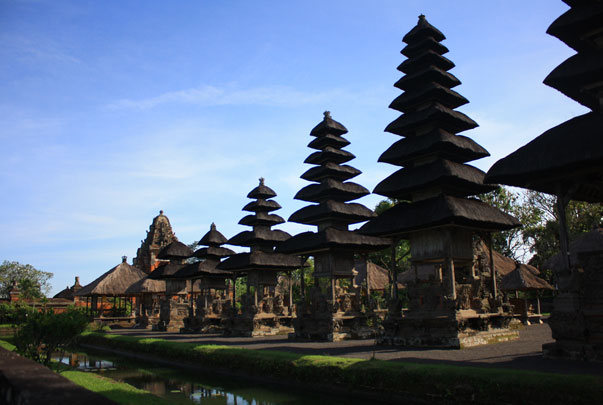 Pura Narmada (or Narmada Temple), around 10km east of Cakranegara in Narmada, was created circa 1805 as a replica of Gunung Rinjani and Segara Anak, the lake within Rinjani's crater. The gardens at Narmada are beautifully maintained and surround the pools and lake.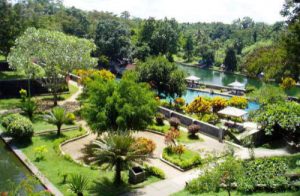 Pura Suranadi, a complex of three temples located a few kilometres north of Narmada in Suranadi, is the oldest and holiest of the Balinese temples in Lombok, founded by the 16th-century Javanese priest, Danghyang Nirartha. Underground streams bubble up into restored baths, used for ritual bathing. Huge sacred eels live in the pools and streams here, and can sometimes be lured out with an offering of boiled eggs (purchased at nearby stall). To see a sacred eel is considered very lucky!
Lombok is famous for its traditional earthenware pottery made from local clay with distinctive "Lombok Primitive" designs. You can also purchase hand-woven sarongs and fabrics (ikat). Pringgasela in central Lombok is a small Village which is steeped in tradition and is a major center for weaving ikat. Visit the small houses and shops here to purchase traditionally woven, colorful fabrics.
Pringgasela in central Lombok is small village which is steeped in tradition and is a major center for weaving ikat. Visit the small houses and shops here to purchase traditionally woven, colorful fabrics.
Masbagik, close to Pringgasela, is a small pottery Village. Wander the streets and see the pottery being made in the small yards behind the simple homes here and purchase the wares for amazingly cheap prices.
Sukarara is 5 km to the west of Praya, heading south towards Kuta. This is a weaving village where quality ikat and traditional cloth is displayed and sold. Weavers work outside many of the shops, using antiquated "backstrap looms"
to painstakingly produce works of art. Some of the larger pieces can take several months to weave, and collectors from around the world visit this village to purchase the blankets, sarongs and cloth produced here.
Banyumulek, easily reached on the road south to Lembar Harbour, is an important center for pottery on Lombok. The small Village is packed with shops selling pottery produced in the area, as well as from the other main pottery-making Villages such as Penujak and Masbagik. Lombok pottery, with its distinctive terracotta styles, has become famous internationally and is exported throughout the world.
Lombok Guide Magazine
Popular Place Near Mt Rinjani
Popular Places Near Mt. Rinjani
Gallery Activities
Gallery Activities by Instagram